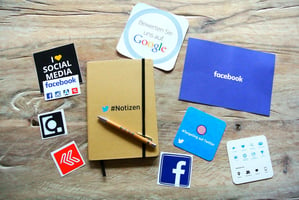 SOCIAL MEDIA 101 & 102
Exeter & London Workshops
AT YOUR OFFICE - ON REQUEST
A one or two day course, depending on your abilities, covering the basics and more advanced topics of social media marketing for your business.
Social 101 will cover topics such as:
Why social is so important
Essentials to a successful strategy
An overview of the key platforms
Creating your content
Risks on social and GDPR awareness
Social 102 will cover topics such as:
Optimising your social strategy
Insights & analytics on social
Social media advertising
Engagement and monitoring
* Rates and availability on request

recruiting On social media
exeter & london workshops
AT YOUR OFFICE - ON REQUEST
Recruiting using social media is about finding the right candidates and approaching them using the right tone and message.
Making the right first impression and ongoing connections with businesses and individuals is important to your brand and culture, this course will provide you with a strong skill set to using social to recruit in the right way.
This course covers topics such as:
How to professionally recruit on social
Content creation on all platforms
Utilising LinkedIn
Using insights and analytics
* Rates and availability on request

DIGITAL MARKETING
EXETER & LONDON WORKSHOPS
AT YOUR OFFICE - ON REQUEST
Do you feel that you don't know where to start when it comes to marketing your business online? Perhaps you aren't covering certain aspects of the digital world and want to conquer it all?
Then this is the perfect course for you.
This course is a great step into creating and improving your digital marketing strategy and journey for your business, everything you need to achieve an effective and measurable digital plan, suitable for businesses of all sizes including SME's and start up's.
This course covers topics such as:
Digital marketing strategy and planning
Content creation online
PPC and SEO strategy and objectives
Email marketing platforms and tips
Website essentials and checklists
* Rates and availability on request