Download our whitepaper on navigating COVID-19 driven consumer change
Whether you think the effects of COVID-19 on society and businesses will fade away over time or will lead to permanent change, what cannot be denied is the very real impact it has caused right now. Businesses have been decimated, with whole sectors virtually collapsing under the changes in people's behaviours.
The data shows us that almost 10 years of digital adoption has happened in just a few short months. With the future still uncertain the use of digital as a primary means of reaching customers and providing them with access to your services and products is going to continue for some time. And the longer things stay this way the less likely people will be to revert back to their old ways.
Ask yourself this:
Would you wait 10 years to reassess your business strategy?
Of course not, so it's imperative for businesses to assess how they operate and build an effective digital strategy to see them through the current crisis, and make them stronger for when the dust settles.
Our whitepaper on The Great Shift offers guidance on how to embrace the world we find ourselves in and find a way through. Inside you'll:
Discover the changes in customer behaviour that will impact how they buy for years to come.
Understand how the changes are not just about your customer, but about your employees, and how you organise and operate your business.
Learn how the Utility Gradient is the main driver of digital transformation and how you can use it to your advantage.
Find out how the unique circumstances we find ourselves in present an opportunity for brands to make digital transformation a success.
"While we talk in the Great Shift report about doing things – which I certainly think we have to do – I also think this is a period about thinking about BEING and WHY we are doing what we are doing."
Minter Dial
Consultant and award-winning author
Download your whitepaper now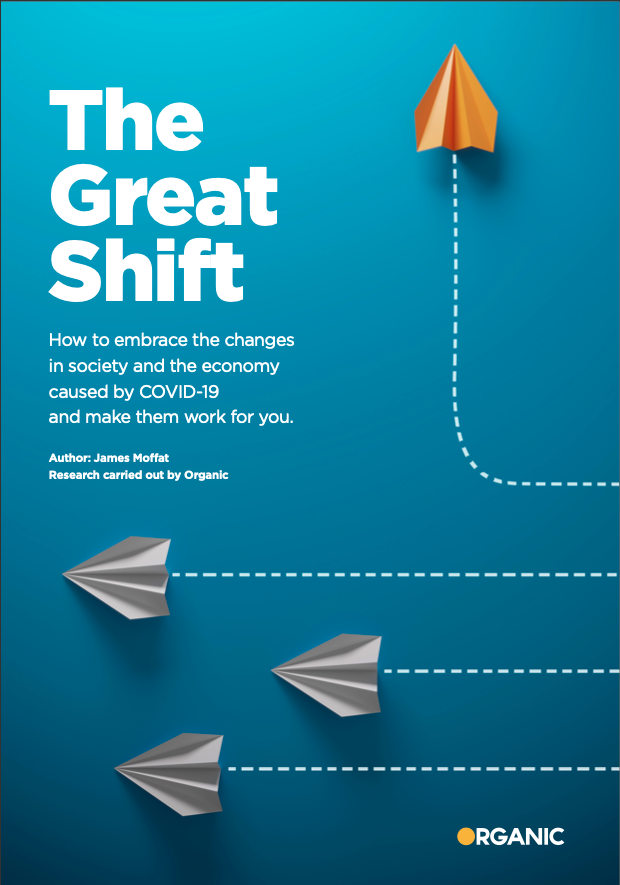 Human-centred thinking, tech-centred doing
While technology offers the way to connect with your customers, it's vital not to lose sight of what's really driving the changes: people. While COVID-19 is an external agent, it's your customers and employees who have shifted their behaviour and expectations.
The right response isn't to splash on shiny tech, but to re-evaluate your business and how it operates.
And that means understanding the people inside and outside. Then you can deliver the right technological solution to meet their needs.
Along with an exploration of the data from our own research and from other sources we've also asked experts and leaders from across the sector to provide their views on the Great Shift and how brands can approach it.
"We have an opportunity now to enact change whilst organisations and individuals are more open to it. But what type of change? Can we make these changes positive, not only to the bottom line, but also to people, society and the planet as a whole?"
Ben Scoggins
Managing Director of Organic
"The implications for the housing market are huge. If current trends play out house prices in urban centres will fall and homes suitable for working from home and those with outside space will rise."
Anthony Codling
Housing Market Analyst and CEO of Twindig
Download your whitepaper now